Jan, 02, 2012
Comments Off

on How to Present for Success
It's time to give that important presentation, speech or interview. You're an expert in your field but can you deliver the winning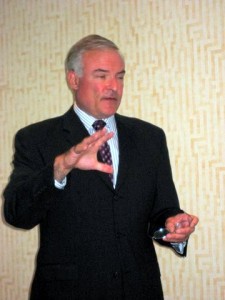 pitch? Will what you say be remembered the next day or even an hour later?
In my many years working as a journalist at CNBC, BusinessWeek, WABC-TV and WNBC-TV in New York, I found many C-level executives lack the ability to organize their thoughts coherently, emphasize what is important and reach their audience in an effective way.
There are three basic components to any presentation: you, the presenter, your message and the audience.
You, the presenter, are the center of attention with key messages to deliver. Can you present your message so it is memorable, quotable and hits the ball out of the park? In order to achieve success, you have to deliver your message in a concise, interesting and convincing manner.
Research shows that making three salient points in a presentation and reiterating those points in a subtle manner during the presentation will leave the audience with a clear recollection of the message.
Take time to carefully define messages one, two and three. Back those messages up with facts, third party attribution, anecdotes and analogies. Find a way to weave back to those three key points and be 100% sure your information is accurate.
Next, think about who is your audience? The audience wants to be educated, informed and perhaps entertained. Think carefully about how you can relate to your audience. You need to find a connection between your personality, the information you communicate and the listener. Now that you've defined your three messages and assessed your audience, it's time to present.
Remember, how you present counts! Just delivering words off of note cards won't give you the impact you strive for or allow you to achieve success.
As James Humes, a speechwriter for five Presidents, once said, "The art of communication is the language of leadership." If you want to lead you must find a clear path to communicate.